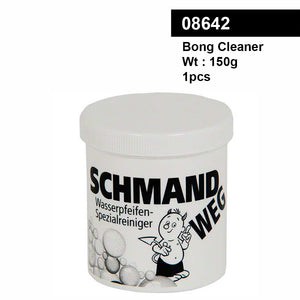 Schmand Weg is a strong cleaner in powder form for water pipes, shishas, bongs and other glass pipes.
Great for removing old and stubborn built up dirt !
Depending on the degree of soiling and size of the bong, use 1-3 tablespoons of 'Schmand Weg', possibly sealing the kick hole with a stopper and fill it with hot water. Wait 10 minutes, shake and pour it out. Rinse with hot water until the water is clear again. If necessary, repeat the process. Finished!
The cleaner is biodegradable and leaves no unpleasant odour/taste.
Contents: 140 g.