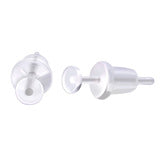 These ear Stud Retainers are great if you are trying to hide your piercing but want to avoid leaving the piercing empty and in danger of healing up. Size is 0.8mm gauge with a 3mm diameter disk. Length of shaft is 12mm.
Sold as a SINGLE Stud.
Ideal for going back to school or work !