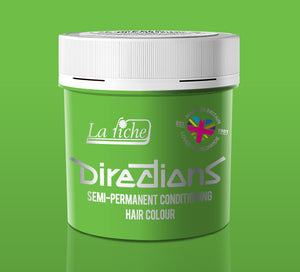 Semi Permanent Hair Dye
With a formulation made with ingredients that are cruelty-free and 100% free from animal-containing ingredients, this dye is completely Vegan Friendly!
Directions comes in 34 fabulous colours and all of them can be mixed, allowing you to create your perfect shade with ease.
Easy to follow instructions and simple application.
Dyes usually last between 2-6 weeks and fade out gradually over time, mainly depending on how often you wash your hair. Dry shampoo can help you to prolong the colour and using a good quality conditioner can help slow fading a little.
Please Note: Directions Hair dye contains NO peroxide and is thus best suited to use on light blonde or pre-lightened hair. The colour shown is based on BLEACHED hair and results may vary depending on hair type, hair porosity & base colour.
Care Instructions: Always Follow Brand Instructions
Dye results cannot be guaranteed always try a strand test to check possible results. * Always follow manufacturers instructions fully.
Due to the semi permanent nature of Directions certain colours can sometimes leave a slight stain on materials and surfaces.
Do wear rubber or plastic gloves when applying the hair colour.
Do use vaseline, petroleum jelly or baby oil around the hairline to avoid staining of the forehead.
As with all hair colours, we advise a swatch test first.
Tub Size : 88ml