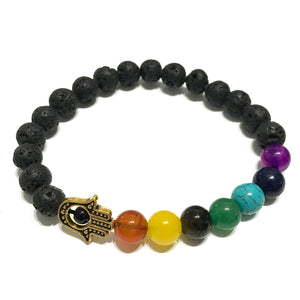 The Lava Stone Bracelet - Hamsa Chakra is a beautiful and meaningful piece of jewellery made from natural lava stone beads, colourful beads and a small Hamsa hand charm. The Hamsa hand is a symbol of protection and good fortune in many cultures.
The bracelet features lava stone beads, which are porous and textured, allowing them to absorb and diffuse essential oils. The beads have been polished to a smooth finish, and the black colour of the stone creates a simple and elegant look that can complement any outfit.
Colourful beads represent 7 chakras - 7 energy centres in the human body.
This bracelet can be worn as a reminder of the importance of intuition and spiritual awareness, and can help to protect the wearer from negative energy and harm. It can also be used as a tool for aromatherapy, by adding a drop of essential oil to the lava stone beads to release a gentle and natural fragrance throughout the day.